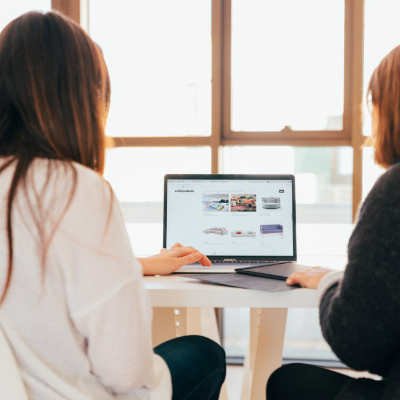 Personal UX Designer
The UX check of your website and the consulting is done by an experienced UX designer.
Direct contact to your UX Designer
Your UX Designer is personally available to you for consultation via our web tools (fair-use)
Concrete solution proposals
Whenever possible, we include concrete suggestions for solutions and improvements in our UX Check.
Feedback directly on the website
Feedback, improvement suggestions and the communication with your UX designer will be placed directly on your website (only visible to you).
Call with UX Designer
Our UX Designer will give you and your team a general overview of the UX Check results and possible optimization options and will be available to answer any questions you may have.
Google Chrome Extension for an even better UX Check Guru user experience (Beta)
Get all UX Check feedback, solutions and communication with the UX Designer directly on your website (optional)
Create Personas
Define typical users or customers and their characteristics and traits in no time. We take this information into account during our check to find the best possible solution for your individual requirements.
Define company goals
Enter your company goals so that we can better understand what you want to achieve with your company or product. We take this information into account and incorporate feedback into the UX check.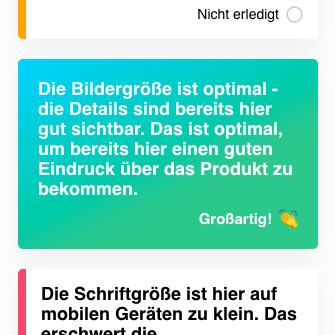 Acknowledgements
For good implementations we deposit acknowledgements. This gives you a good overview of the current status of your project.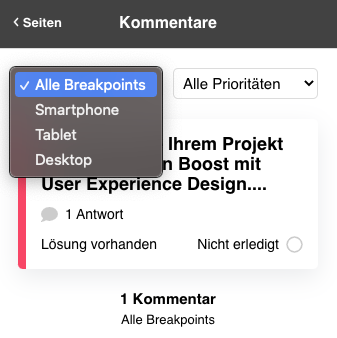 Feedback by devices
We check your website on smartphones, desktops and tablets and provide feedback directly on the website. Categorized and filterable by breakpoints.
Results as PDF report
Export the results of the UX Check, general feedback, personas, business goals and the conversation with the UX Designer as a PDF document.
Key figures at a glance
Keep track of relevant metrics about the current state of your website on a per-page and per-project basis.
Keep an eye on priorities
Keep track of what is important. We assign a priority (Low, Normal or High) to each UX feedback.
Organize your tasks
Mark individual UX feedbacks as done to keep track of optimization.
Create Projects
You can create as many paid projects (websites) as you want per account. Each account can create up to 5 free projects.
Share project
Share the results of the UX Check with colleagues, developers and as many other people as you like via a public link.
Service available in English and German
We perform the UX Check and consulting service in English or German upon request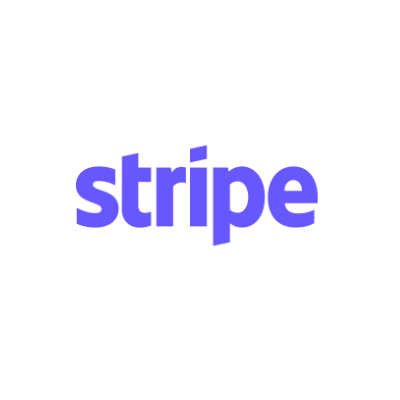 Secure payments with Stripe
We do not store any credit card or payment data with us. Processing is done directly through our secure payment provider Stripe.